"The way and the time were really worth it, because I was fascinated by the lecture, in the middle of it, super!"

Ursula Hepfer, Head of Human Resources, Heidelberg

"Great fun, very dynamic and in depth."

Chris Hunter, Indigo Scientific Ltd., United Kingdom

"A keynote speech without equal, in one word: An enrichment!"

Stefan Trinkl, SMP Germany GmbH

"Superior lecture – very inspiring (!) – was a great joy and enrichment."

Rainer Richter, Head of Wealth Management, Commerzbank AG

"Markus Jotzo has made us rethink: strong, leading, unpleasant."

Sylvia Friedmann, Managing Director HEISERV GmbH

"It wasn't just a lecture, it was energy-charged powerplay of the best."

Prof. Dr. Sebastian Feichtmair, Head of International Business, Baden-Wuerttemberg Cooperative State University Loerrach

"The lecture was excellent! Entertaining, provocative and valuable for the daily work of our entrepreneurs. Awesome!"

Peter Geckeler, Managing Director of the Metalworkers' Association of Baden-Württemberg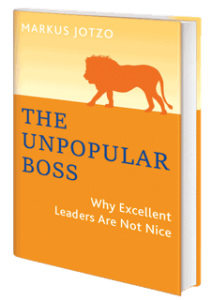 "He made us think and even made one or the other think in new directions: Strong, leading, unpleasant."
Sylvia Friedmann, Managing Director of HEISERV GmbH
Keynote 1:
"The Unpopular Boss – Why Excellent Leaders Are Not Nice" by Leadership Speaker Markus Jotzo
Rough and gruff won't produce good results these days. But developing a friendly feel-good culture is not the solution either. So what helps to achieve challenging goals? Speaker Markus Jotzo provides the answers you need.
In this presentation, leaders will learn …
… that there is no use in constantly asking in a nice and friendly tone.
… to communicate directly and with crystal clarity, while at the same time being appreciative.
… how this rather uncomfortable behavior brings the best results and important changes.
Keynote speaker Markus Jotzo answers the questions: Can the manager do something about silo thinking? Absolutely! Can performance management get stubborn employees back on track? Of course! And what's the biggest mistake you can make as a leader?
Speech description on one page: "The Unpopular Boss"
To request a booking please contact us at service@markus-jotzo.com or
"Your speech was very lively and very vivid. It woke me up and has given me many new approaches for my day-to-day leadership responsibilities. Chapeau!"
Jürgen Krey, Commercial Director, Kürten & Lechner GmbH
Keynote 2:
"Letting Go for Leaders – More Responsibiliy for Employees" by Leadership Speaker Markus Jotzo
Running from meeting to meeting, fighting a fire here, battling the flames there. Is there another way? There is. In fact, it's surprisingly easy to implement and tough at the same time. Leadership expert Markus Jotzo provides the impetus for you to hone you letting go and focusing skills and then implement them.
This is what leaders will learn in the lecture:
… priorities for strategy, powerful thinking, and long-term action.
… challenging employees clearly and on a daily basis and improving their performance.
… permanently implementing concrete behavioral changes through daily focus.
Focus and implement the most important tasks every day – this is possible for any leader. This sets the foundation for the right focus of your company towards satisfied employees, high motivation, and healthy growth. Learn to strengthen your daily letting go leadership with three levers.
Lecture description on one page: "Letting Go for Leaders"
To request a booking please contact us at: service@markus-jotzo.com or
"This wasn't just a speech, this was energetic power play at its best. Interactive, vivid, entertaining, and sustainable. Something for the body, the mind, and the laughter muscles. I will never forget the story of the creepy crawlies and the motto: Brave – uncomfortable – proud!"
Prof. Dr. Sebastian Feichtmair
Head of International Business, Baden-Wuerttemberg Cooperative State University Loerrach
Keynote 3:
"Bold. Energetic. Proud. How to Face Changes with Self Confidence, Sovereignty and Inner Strength" by Leadership Speaker Markus Jotzo
Practically no one likes change, but speaker Markus Jotzo makes change attractive. In this lecture, employees and executives alike will see that only through change can we go further! Digital era, here we come!
Responsibly taking over leadership – whether as employee or manager – is the only way towards successful change.
… How to adopt a confident and goal-oriented attitude – motivation for change.
… How to lead yourself and your employees transformationally and make them more competent.
… How to deal wisely with resistance, mistakes, and setbacks – failure as an opportunity.
How do you turn the affected into the involved? Give them responsibility. Give them opportunities to create and design. Listen to your employees. Then your staff will hit the ground running. Leadership speaker Markus Jotzo explains how you can ensure you are giving them both the freedom to move while at the same time pointing them in the right direction. The lecture is customizable for employees or executives.
Lecture description on one page: "Bold. Energetic. Proud."
To request a booking please contact us at service@markus-jotzo.com or
"A concise and valuable lecture to make you think directly about yourself, offering good instructions as well as ideas for implementation. The lecture is funny and actively involves the listeners."
Henrietta Six, Director, Sparkasse KölnBonn
Keynote 4:
"Four Weeks through Germany Without Money: Overcoming Extraordinary Challenges with an Extraordinary Mindset" by Leadership Speaker Markus Jotzo
Being a leader today often mirrors a crazy journey without any money: Today's managers have too few resources – budget, time, staff – and yet are supposed to achieve challenging goals. Speaker Markus Jotzo took it upon himself to set off to travel through Germany without any money, and the result was a startling number of parallels to daily operations in day-to-day leadership.
Taking on the challenge with confidence – even if it sometimes seems out of reach.
… Four weeks without money, food, or sleeping space: How do you tackle huge challenges in our jobs every day?
… How to instill confidence in yourself and your team and make them ready for change.
… How to handle resistance, mistakes, and setbacks with wisdom: Three steps to restart.
Keynote speaker Markus Jotzo adapts his presentation to suit either employees or executives. Approach ambitious goals, change, and the digital era with motivation and success. Small yet concrete changes in your thinking have a huge impact on achieving your goals. This talk will blow your mind!
Lecture description on one page: "Four Weeks Through Germany Without Money"
To request a booking please contact us at service@markus-jotzo.com or
The keynote was outstanding! Entertaining, provoking and valuable for our entrepreneurs' daily work. Great!"
Peter Geckeler, CEO business association metal Baden-Wuerttemberg, Germany
Keynote 5:
"Healthy Leadership in the Digital Era – Employees Who Are Fit, Committed and Ready for Change" by Leadership Speaker Markus Jotzo
The digital era and the associated accelerating changes in markets and companies are leaving their mark. Employees and managers alike are leading themselves and their staff in increasingly stress-promoting and unhealthy ways. This creeping change is occurring without us being consciously aware of it; however, its consequences are clearly measurable and noticeable and can significantly reduce the performance of teams and companies.
Leaders will learn to pay more attention to the HOW in addition to the WHAT:
… Only healthy and satisfied employees deliver the optimal results = the basis for change.
… Employees are prepared for change when they are constantly learning and experiencing personal growth.
… Mindful, appreciative, and demanding leadership is the basis for transformational leadership.
With this keynote speech, you will learn to take the quality of your leadership thinking to the next level. Speaker Markus Jotzo is firmly convinced: "Healthier = more profitable". But why is this so difficult to implement? Concrete implementation tips lead directly to a healthy understanding of leadership, performance, and change management. Markus Jotzo will also adapt the focus of the talk to your individual situation. Achieve your goals and changes in a better, healthier way.
Lecture description on one page: "Healthy Leadership in the Digital Era"
To request a booking please contact us at service@markus-jotzo.com