The Formula for Infinite Pride – You Things You Cannot Do
Markus Jotzo invites the reader to overleap the stretch zone and enter directly into the overburden zone. Everybody can expect something way more exciting there: The reader can attempt to reach his lifelong dreams – big or small –, which have waited for so long, directly and straight. In other words: He does what he can't do yet and expose himself to the risk of fail. The effect: the fastest learning rate possible. And in the end: infinite pride.
Markus Jotzo's guidebook is extraordinary. He goes beyond usual books about bravery. Radical, refreshing, full of anecdotes and stories – and convincingly reflected.
The Unpopular Boss –
Why Excellent Leaders Are Not Nice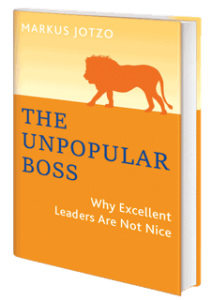 Good executives merely achieve average results. Markus Jotzo's management book reveals how bosses can become excellent executives: On the way to excellent leadership it is inevitable to keep looking closely and to regularly address the employee's strengths as well as areas for improvement. That's unpleasant for the employee – and quite hard for the manager, too.
The author is convinced: "Employees love being thrown in at the deep end – in retrospect." As unpleasant as it may appear, the result is convincing: Employees excel and grow. Executives and their personnel will create completely new potentials. In order for bosses to set the course for success, a new attitude regarding leadership is necessary. Every manager can make this quantum leap by utilizing the management book with its practical tips.
Letting Go for Leaders – More Responsibility for Employees
The management book for executives who want to achieve better results. It is intended for experienced executives as well as junior managers: if they want to be successful with their team, they need to let go, have confidence in their employees to accomplish great things, and delegate. Because only those who challenge their staff and allow them adequate attitude, can bring the best out of them – and develop the company's full potential.
Markus Jotzo knows from his own leadership experience: When employees become partners, the boss can retreat from the operational business and concentrate fully on the managerial functions. To make sure these are not just good intentions, his book "Letting go for leaders" conveys practical tools and proven strategies bosses can implement directly in their everyday work.