"For the tenth year, Mr. Jotzo has been supporting us with his training sessions, at our international strategy meetings, and by individually coaching executives. Not only does Mr. Jotzo develop effective training concepts with his passionate, goal-oriented, and tenacious style, he also questions my thinking as an international sales manager. His goal orientation and steady questioning enabled us to remove many snarls that had clung to us. This has enabled me to bring our business forward even more successfully and to continue our significant international growth of recent years."

Claus Ripken, Managing Director, Knauf Aquapanel & Co. KG

"What a workshop! Just Amazing!"

Eugenio Cicala, Henry Schein Germany

"The way and the time were really worth it, because I was fascinated by the lecture, in the middle of it, super!"

Ursula Hepfer, Head of Human Resources, Heidelberg

"Almost playfully, as part of the group the internal resistance loosened within me. This has been slowing me down for a long time. I look forward to a sequel."

Gerhard Broecker, Broecker Corporate Development GmbH

"Our managers really liked the direct and crystal clear feedback."

Nelly Schulz-Algie, Personnel Manager LeaseRad GmbH

"Markus Jotzo is one of the very few trainers who understands what it takes for personal development to be sustained over time. Having worked closely with him in designing and delivering leadership development programs, I can say that his personable approach, combined with challenging participants and helping your organization to create post-training implementation solutions, is creating relevant and sustainable opportunities for your employees to develop and grow the business."

Kevin Groen, Booking.com B.V., Netherlands

"Markus Jotzo was able to respond individually to the specific development and learning needs of the individual participants."

Dr. Sieglinde Jastroch, HR Manager CE of Orion Pharma GmbH

"Superior lecture – very inspiring (!) – was a great joy and enrichment."

Rainer Richter, Head of Wealth Management, Commerzbank AG

"A keynote speech without equal, in one word: An enrichment!"

Stefan Trinkl, SMP Germany GmbH

"Great fun, very dynamic and in depth."

Chris Hunter, Indigo Scientific Ltd., United Kingdom

"The lecture was excellent! Entertaining, provocative and valuable for the daily work of our entrepreneurs. Awesome!"

Peter Geckeler, Managing Director of the Metalworkers' Association of Baden-Württemberg

"It wasn't just a lecture, it was energy-charged powerplay of the best."

Prof. Dr. Sebastian Feichtmair, Head of International Business, Baden-Wuerttemberg Cooperative State University Loerrach

"Markus Jotzo has made us rethink: strong, leading, unpleasant."

Sylvia Friedmann, Managing Director HEISERV GmbH
Seminar 1:
Individually Tailored Leadership Training
A management training session with Markus Jotzo always covers two topics: Leading yourself and leading employees. Together with Markus Jotzo, you will individually define the exact topics and focal points. The focus is on exercises relevant for practice and implementing the learning points in your daily management practice.
Markus Jotzo's leadership seminars are characterized by exercises and direct, digestible feedback. This reveals your managers' habits and established ways of thinking, but also underlines which of their leadership skills are already strong.
The video, audio, and written materials offered prior to the session will prepare the managers for the training. The real-world solutions will provide them with strong leadership skills and demonstrate actionable ways for a more successful management of employees.
Occasions for leadership training
‣ Employees are not taking part in the change process: How can leaders successfully tackle change?
‣ A (leadership) team is formed: How can leaders develop a strong team?
‣ Managers with little leadership experience: How can you learn and implement basic leadership skills?
‣ In a (leadership) team, individuals are working against each other instead of with each other: How can leaders solve conflicts in a sustainable way?
‣ Young leaders are still inexperienced and don't conduct real leadership: How can they develop their leadership skills?
‣ Your (annual) employee interviews do not lead to increased performance and motivation. How can you design an effective employee development process?
‣ Employee potential is not being fully utilized: What leadership psychology can you use to ensure more energy, motivation, and results?
‣ The day-to-day business leaves little room for strategy, conceptional thinking, and the really important matters: Which techniques for prioritizing and letting go create both focus and results?
‣ An atmosphere of mistrust prevents real cooperation: How can you create a trusting collaboration?
‣ The sickness rate is too high: How can you lead your employees to a healthy mindset and healthy daily work behavior?
‣ Performance deficits in a team: How can you awaken focus and willingness to perform among your employees?
Possible topics for your individual leadership training
‣ Clear, effective leadership communication that sometimes hurts.
‣ Initiate and master change in the digital era.
‣ Change management: Motivating employees in times of change.
‣ Keeping a strong mindset in times of digitalization, stress, and pressure.
‣ Leadership: Leading yourself in turbulent times.
‣ Increase the health rate: Talking to employees after a medical absence with appreciation and effectiveness.
‣ Healthy leadership: Sustainably reducing stress to a healthy level.
‣ Fostering enjoyment in work instead of frustration.
‣ A sustainable life balance – both for yourself and for your team.
‣ Employee leadership: Accompanying performance improvements.
‣ An ever learning organization and feedback culture.
‣ Feedback for leaders.
‣ Letting go and focusing on the essential tasks of a leader.
‣ Workshop team building: Setting the course for trust, openness, and genuine cooperation.
‣ Dissolve silo thinking: Teamwork across departmental boundaries.
‣ Lead with clarity: Effective delegation in the face of resistance.
‣ Situational leadership and managerial styles.
‣ Conflict management: Identifying and resolving conflicts.
‣ Team leadership: Real, sustainable employee development.
‣ Lateral leadership / leading without authority.
‣ Self-management and time management for leaders.
‣ Leadership skills: Developing your risk appetite, increase speed, error culture.
‣ Coaching as a management style.
‣ Crossing mental personal boundaries: Smashing a wooden board and walking on shards of glass or glowing coals.
Success factors in leadership training:
‣ Preliminary theory via video, audio, and written materials.
‣ Accurate alignment of leadership training objectives.
‣ Individual learning goals for each participant.
‣ Review of the implementation of the individual learning goals.
‣ Personal challenges during training.
‣ Sustainable, field-tested management tools.
‣ Videos for intensification after training.
‣ 1:1 follow-up coaching by telephone after the seminar.
‣ Measurement of the training success.
Markus Jotzo knows from his own experience: In order to change behaviors, it is necessary to fundamentally realign the underlying thinking. In the seminar, the participants will see everyday situations from a new perspective – and thus experience eye-opening "aha" moments. Provocative yet charming, Markus Jotzo pushes leaders out of their comfort zone and thereby brings about new ways of thinking and acting.
Do you want to make your managers competent, capable, and able to adapt to new challenges such as change, digitalization and rapidly changing markets? Then contact us at service@markus-jotzo.com +49 40 60 59 29 56
Seminar 2:
Letting go for leaders: More Responsibility for Employees
Leadership training for all leaders who want to unburden themselves and achieve significantly better results. Both for young and experienced leaders and those who simply can't let go.
"Letting go means separating yourself from less important things in order to free up energy and strength for the essential tasks of leadership." Markus Jotzo
Training content
‣ Thoughtful strategy as a basis: Away from small odds-and-ends and towards the bigger picture.
‣ Work effectively: Letting go and focusing in day-to-day business.
‣ Human resources development: See employees as big and make them even bigger.
‣ Awaken employee enjoyment at tackling change and taking on challenges.
‣ Recognize and transcend your own boundaries.
Set the course for growth and the confident management of the constant changes facing us in the digital era. Work on the right levers:
‣ As a leader, you conduct strategy, conceptional thinking, and plan for success.
‣ The employees conduct the day-to-day operations.
Markus Jotzo knows from his own management experience: When the employees become co-entrepreneurs, the boss can retire from the operational business and concentrate fully on the management tasks. To make sure this goes beyond good intentions, Markus offers tangible leadership tools and proven strategies that leaders can implement directly every day.
The book:
"Letting Go for Leaders"
"Letting Go for Leaders – More Resposibility for Employees" is Markus Jotzo's book for excellent leadership. Awarded Best Management Book of the Year 2013.
To request a booking please contact us at service@markus-jotzo.com +49 40 60 59 29 56
Seminar 3:
Mental Strength in Times of Change and Digitalization
The challenges in the world of work are increasing
‣ Restructuring creates uncertainty and existential fear.
‣ Intense competition is causing margins and profits to fall and revenue pressures to rise.
‣ Skills shortages and redundancies are increasing the workload.
‣ Integrating new technologies and other changes such as process optimization and international cooperation are increasing the workload.
‣ The requirements of some of the jobs themselves are changing fundamentally, leading to employee uncertainty.
‣ Stress levels are increasing due to increased pressure to implement.
In this seminar, leaders will develop their leadership skills and find answers to these questions
‣ How can you transform your teams for new thinking and action?
‣ How can you spark your employees' willingness to embrace change?
‣ How can you attract and keep talent?
‣ How can you create an atmosphere of responsibility and goal orientation?
‣ How can you respond to the emotions, insecurities, and fears of your employees?
‣ How can you reduce stress to a suitable level?
‣ How can your employees develop mental strength?
Corporate culture, employee leadership, and change management
In many companies, the focus is on the WHAT: What are our goals? What are our main projects? What is the target group?
Leaders often neglect the HOW: How can we work together as a team? How can we adapt an attitude to tackle the upcoming change? How are my team members approaching their daily challenges?
The HOW is the lubricant of the engine: Only with the right setting and in the right way can you set the course for success and wash the grit from the gearbox. Target focus is a good thing, but it can only be optimally achieved if leaders enable their teams to tackle the issues with the right attitude. And this requires leaders who see their job of managing employees not as a troublesome activity, but as an active daily process. Leading their employees belongs on your managers' priority list. Only then will you succeed in your change management.
Together with Markus Jotzo, you can design the final content of this leadership training according to your situation. Every manager will leave the training session with field-proven management tools, strengthened competencies, and a concrete and measurable implementation plan. All of a sudden, good change management and digitalization become feasible.
Upon request, Markus Jotzo will also support your leaders and teams in implementing the planned measures. Are you ready to lay the groundwork for powerful employees who accept and embrace change?
To request a booking please contact us at service@markus-jotzo.com +49 40 60 59 29 56
Seminar 4:
Healthy Leadership – Replacing Frustration with Enjoyment
The emotional stress of everyday work life is constantly increasing: Changes, restructuring, digitalization with all its technical challenges and increased competition and revenue pressure… Good change management should be there to help, yet the layoffs of colleagues and the closure of corporate branches across the country are increasingly leading to uncertainty and anxiety.
Employees therefore need leadership that supports them, picks them up, and doesn't leave them alone with these challenges. Of course, employees retain the responsibility to produce results and achieve goals, but along the way they need leaders who forge a healthy framework for their employees.
What is Healthy Leadership?
You are a healthy leader when you …
‣ … are aware of and regularly measure stress levels in the team and actively ensure a healthy level.
‣ … give meaning: Why the day-to-day work brings great benefits to employees, our customers, and our society.
‣ … focus on the essentials and reduce administrative activities that offer little benefit.
‣ … actively support your employees through the strenuous phases and extraordinary challenges.
‣ … let employees, with your support, create frameworks that work.
‣ … recognize conflicts, dissolve silo thinking, and tackle similar obstacles sustainably.
‣ … pro-actively ensure a pleasant team structure.
‣ … foster an open feedback culture in all directions – also for the boss and the company itself – to detect and respond to problems early on.
‣ … pay attention to your own life balance and to that of all employees and, if necessary, ensure appropriate compensation.
Potential goals offered by this training
‣ Raise the health rate to a good level.
‣ Enthusiasm for the job and enjoyment at work – even with daily challenges.
‣ Employee retention thanks to excellent leaders who successfully transfer responsibility.
‣ A supportive team atmosphere full of collegiality, trust, and togetherness in the face of challenges.
‣ A healthy life balance for all team members – even the boss.
‣ A healthy and challenging yet also appreciative leadership.
‣ Managers with knowledge of their own leadership skills and development fields thanks to feedback for leaders.
‣ A healthy stress level through regular monitoring with the appropriate guidance tools.
"Healthy Leadership" Training Content
In this leadership training, your managers will learn actionable tools to implement the aforementioned facets of healthy leadership on a daily basis. Markus Jotzo will take into account your current corporate culture and framework conditions for the training. Together with him, you will define the exact focal points and topics in order to meet your precise needs.
When do you want to lay the base for successful and healthy corporate management?
To request a booking please contact us at service@markus-jotzo.com +49 40 60 59 29 56
Seminar 5:
Crossing Your Own Boundaries with Courage and Energy
WAS THAT IT? The seminar for those who want more from life.
What else do you want to experience in life?
What's stopping you from taking action?
When are you going to start living the rest of your life with self-determination?
In 2016, Markus Jotzo travelled from Hamburg in the north of Germany to the Zugspitze in the south – without any money. The bottom line? Big, crazy goals and plans are all actionable – if the will is there. If you want to, you will find ways. If you don't want to, you will find excuses.
Test your mettle! Take the journey yourself. Set off without money and you'll return with a lot of experience and a lot stronger. The answer to the title of the seminar "Was that it?" is "Not by a long shot!"
The Process
‣Saturday: First training day in Hamburg, starting at 11 am and ending at 7 pm.
‣The travel: Three days from Hamburg to the Harz mountains without any money: Sunday morning to Tuesday night.
‣Wednesday: Second training day in the Harz mountains, ending at 4 pm in the beautiful Rabensteiner Waldhaus.
The key to success is motivation and action: Targeting and overcoming your own boundaries
You will never forget these unique days filled with life-long experiences. You are going to tackle, fail, tackle … and succeed. You will learn how to focus and achieve ambitious goals with a lot of strength. In teams of two, 2.5 days through Germany – without any money. Your adventure seminar will begin with a seminar day in Hamburg, where you will reflect upon your own goals and personal boundaries, and on how you can overcome them. Sunday through Tuesday, it's off to the Harz mountains – with no money of your own. Transport, food, and accommodation must be found together with your travel partner on route. The last day is another seminar day, where you can share your experiences and insights with the other seminar participants. You can also look forward to receiving more input on how to successfully tackle your ambitious, bold, long-awaited desires and goals. You will see that with the crucial factors of clarity, motivation, and crystal-clear communication the impossible can be achieved, much more than you would have ever thought possible.
Your personal change management. Your concrete benefit.
‣ You will gain clarity about the most important things in your life.
‣ You will discover the strength to tackle your life's priorities.
‣ You will come into contact with yourself and your personal strengths and weaknesses.
‣ You will meet people to whom you will develop deep emotional connections.
‣ You will experience situations and challenges as well as extremely beautiful, unforgettable moments.
Target Audience
Those who want more from life.
Those who want to kick start themselves.
Those who want to experience another highpoint of a lifetime.
You will never forget this seminar. Discover what you're capable of. Dare to do it!
The book of the seminar: "The Formula for Infinite Pride"
"The Formula for Infinite Pride – Do Things You Cannot Do" – Markus Jotzo's book for all those who want to move away from average happiness towards deep satisfaction. Seminar participants will receive the book as a gift.
To request a booking please contact us at service@markus-jotzo.com +49 40 60 59 29 56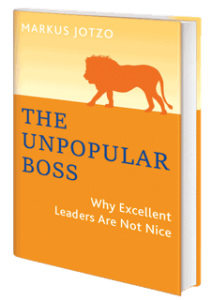 Seminar 6:
Excellent Leadership. Online Leadership Training
Don't have time for leadership training in a seminar and still want to get valuable impulses for your employee leadership? Then Markus Jotzo's online leadership training is just right for you! In collaboration with OnlifeClasses®, the internationally renowned author, speaker, and trainer has developed a training concept that enables managers to become even better leaders.
Leadership training online: Leadership expertise in the digital era
In accordance with the book 'The Unpopular Boss – Why Excellent Leaders Aren't Nice', this leadership coaching provides sound advice for six crucial areas to develop even more leadership skills and ensure more successful day-to-day leadership:
‣ Employee leadership: How to get your employees to build additional skills.
‣ Bringing low performers back on track: How to achieve performance improvements with your employees.
‣ Easing the burden and giving empowerment: How having a real deputy saves you time.
‣ Team leadership: How to improve your team and yourself soundly through feedback.
‣ Stress management: How to achieve goals by letting go and focusing.
‣ Conflict management: How to dissolve silo thinking in the company and create real cooperation.
Intensive training for leaders: New impulses six times a week for six weeks – with three videos with Markus Jotzo each week.
You will have access to an instructive and work-focused input six days a week, including a concise worksheet and the fundamental essentials, offering inspiration and practical options for action for you to develop excellent leadership.
After six weeks, you can review the full content for additional six weeks as many times as you want. All written materials will be yours to keep following the course.
You determine when, how often, and for how long you study the leadership training content. You no longer have a reason to do nothing! Book your online leadership coaching here now:  OnlifeClasses®.
The book of the seminar: "The Unpopular Boss"
"The Unpopular Boss– Why Excellent Leaders Aren't Nice": Markus Jotzo's book for leaders who are reluctant to take on a strong, decisive, and demanding leadership style.